"Virginia and Cheeky Chops"
Virginia is an Equine Myofunctional Therapist, trainer and competitor and lives in Australia. She contacted us at the end of 2010 about a dressage saddle for her horse, a 5 year old Warmblood x American Saddlebred gelding. He has been under saddle for about 18 months and is working at Novice/Elementary dressage and jumping around 70-80 cms. Virginia described him "as quite short backed and solid and since his scapula slopes a fair way back behind his wither", she felt there was not a huge space left for a saddle to sit before his last rib.
Virginia described a long tale of woe in her search for a saddle , one that suited them both. She is not very tall but not light either and this compounded saddle fitting problems. Cheeky Chops expressed his discomfort with an unwillingness to go forward particularly in canter, lots of tail swishing and "pig rooting". Many different brands, styles and sizes were tried to no avail.
These are some of the photos Virginia sent to us before placing her order for her Ideal saddle:
Ian explains that Virginia and Cheeky Chops were suffering from a common problem. The saddles were too narrow for him in front but because he was well muscled and croup high, he kept Virginia in balance and so the problem was disguised, other than manifesting itself in the horse's discomfort. However, with the correct width of tree for the front, the horse's shape and musculature behind the saddle will tend to make the saddle too low at the front and for Virginia to feel "downhill". The answer is to rebalance the saddle using the flocking so that the saddle lifts at the front and sits down at the back. The Suzannah has drop panels as standard and front gussets so it lends itself exceptionally well to this fine tuning.
The next common problem was the perception, which is widely shared, that the saddle should not extend beyond the horse's last rib. The fundamental problem here is that this is very rarely possible to achieve if a saddle is to fit both horse and rider. If the rider is big relative to the space on their horse's back where he or she can sit…."you cant do it" says Ian. If you accommodate the horse in this respect, the rider is squeezed in to a saddle that is too small, their leg falls too far forward and they sit on the back of the saddle, causing uneven pressure, discomfort and a sore back for the horse.
The number one golden rule is that the front arch of the saddle tree must be the same shape and width as that part of the horse's back upon which it should be positioned. The other golden rule is that the saddle is in balance by which we mean the saddle is positioned such that the rider naturally sits in the centre of the saddle and the combined weight of the saddle and rider is evenly distributed over the whole bearing surface of the saddle. The Suzannah with its wider twist and big, broad panels is ground breaking in this respect as it is designed to maximise this bearing surface.If these two golden rules are obeyed, it rarely causes a problem if the saddle extends a short way beyond the last rib.
Our thanks go to Virginia for allowing us to tell this story. That her problems were common problems is only clear to the expert but having said that many experts would not recognise them nor be able to find the solution. We must say this next!..... Luckily Virginia found us and through us, Ian and his team!
This is some of what Virginia wrote to us about her new saddle:
" I LOVE the new saddle!!! I have ridden in it 4 times and it hasn't moved at all on him not like any other saddle I tried. It is lovely to sit in and I definitely notice the difference position wise as it sits my pelvis and leg in a much improved position…….and touch wood I haven't had any pig roots or even any real ears back since I have been using it. Very HAPPY CUSTOMER".
A couple of weeks later, Virginia wrote " My instructor, Cherie is a top level judge and coach in this country and in her day rode Grand Prix Dressage and Show Jumping. She is very impressed with the alteration the saddle has made to my riding and to the comfort and happiness of my horse. I even made her sit on him in it and it was only then that she really realised how wonderful it was and how it sat you in the right spot without even trying and allowed your leg to hang in a much more correct position without forcing it. " Virginia went on to say that her instructor "made about 5 other people sit in it (poor chops must have thought he was doing pony rides) and it made a big improvement to most of them. The interesting thing was that it suited many different body types – tall and slim to short and round, long legs and short legs".
As you can imagine reader, we were thrilled to hear all this. We care about what we do, indeed we are passionate about it! We believe this successful outcome is down to the combination of excellent communications, Ian's experience, expertise and attention to detail plus the quality and excellence of the design of the Ideal Suzannah saddle.
Testimonials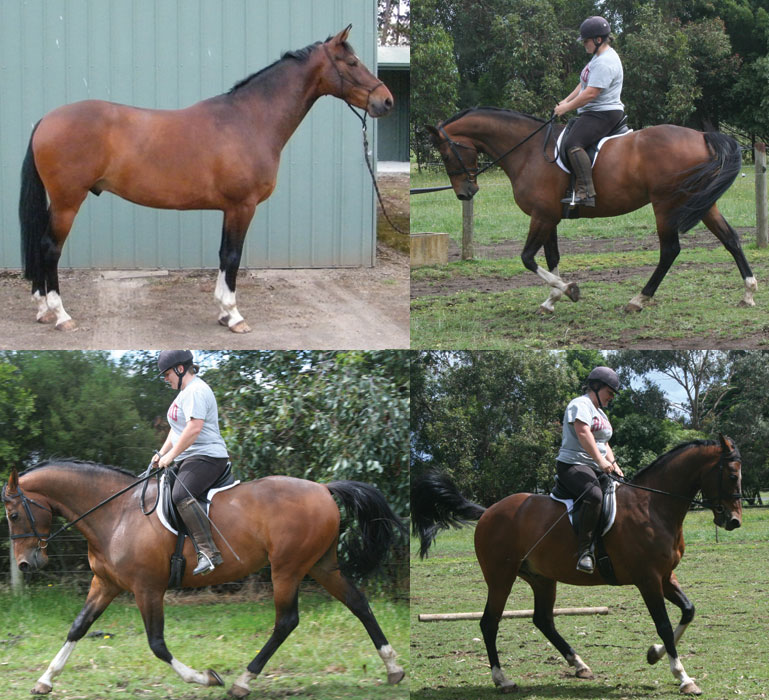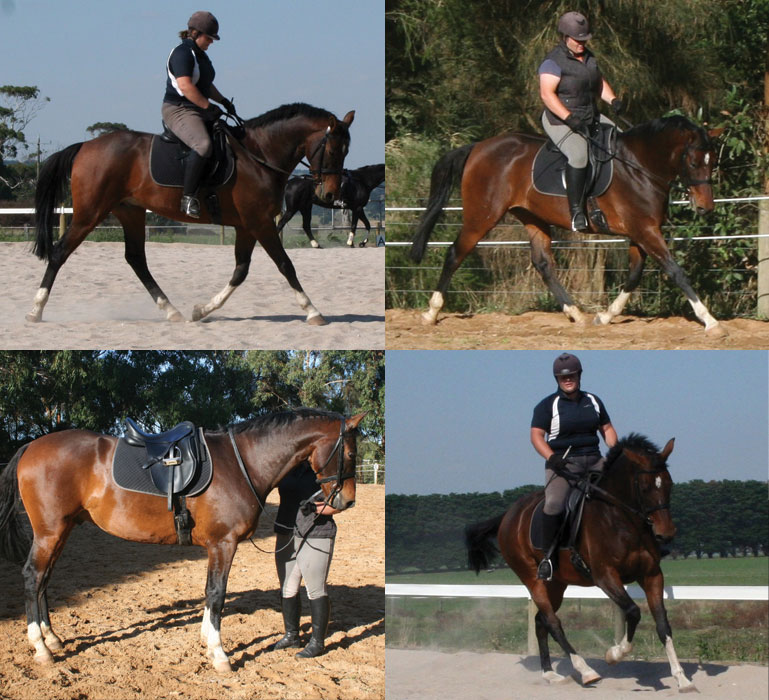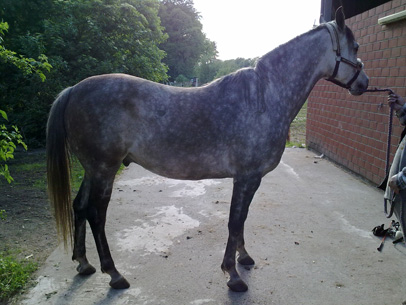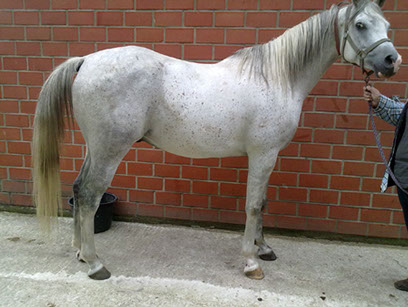 Sheila contacted us in April 2011 for saddles for her two Arabs, Will & Noddy. Both are six year olds and both had been backed the year before. To date they had been hacked out but looking forward, Sheila hoped to perhaps show them and/or do some endurance type riding.
Arabs are rather notoriously tricky to fit! To compound this potential problem, Sheila was finding it hard to find saddles in Germany for anything other than the Warmblood type and for anything other than dressage and jumping. Will is the more substantial type, wide, indeed very wide, and long striding. Noddy is finer, high withered and short backed.
Arabs are notoriously tricky to fit!
Will was our first project! Sheila sent us a photo of the type of saddle she had in mind. There were various ways to arrive at this but given that the Ramsay tree works very well on Arabs, this was going to be our starting point. However, Will is very wide, so Ian had a long chat with Ideal and they strongly recommended that we use a Finesse tree. This is the same as the Ramsay but for wider horses. From the photos and video that Sheila had sent to us, it was clear Will was unwilling to go forward. It was very likely that the saddle being used was too narrow and could well be the problem or at least eliminating the saddle as the cause is the first step and hopefully the solution.
Noddy, finer, high withered and short backed. An easier fit!
Much discussion then centred on flaps and blocks and seat depth. The saddle in the photo Sheila had sent us had dressage style blocs. Ian suggested that given that she wanted to use the saddle for working hunter, showing and general riding, a shallower, shorter block would give more flexibility and allow Sheila to ride shorter. The final spec was for an Ideal Finesse in Dark Havana with a medium depth seat, and GP blocks. The saddle would be fitted with point and balance straps to help stability.
The saddle arrived and "looks lovely", said Sheila. However, Will was still not happy although at least he did not buck or kick out as he had done with his last saddle, said Sheila. We asked Sheila to send us some photos and hopefully a video so Ian could check the saddle was sitting in balance. Meanwhile, Sheila took great care to familiarize Will with the feel of his new saddle. Sometimes it can take a bit of time for a horse to respond. His behaviour is so conditioned by his past discomfort that it doesn't change immediately.
However, in Will's case, there was a different cause. It turns out he had a serious problem in a stifle. An operation and long box rest later. I'm relieved to say that there is a happy ending. Sheila is being cautious with him, but he is sound and in light work.
Now for Noddy! It must be said, Noddy is easier to fit!!! The spec for the saddle was very similar and everything went smoothly.
After receiving her new saddles, Sheila said:
"Noddy loves being ridden. I am very happy with the saddles and find they are a perfect fit. I have seen made to measure saddles here that are twice the price."
This is perhaps the best testimonial we can have!
Lorette contacted us just before Christmas 2011. She wanted a dressage saddle for her 10 year old KWPN mare (Negro X Cabochon), Charlotte. The mare had been working at M1 level in The Netherlands before a 4 year foal break. She was back in training but not quite to her old shape and musculature. She has a flat, straight back and round ribs. Lorette's constant problem has been saddles sliding forward over Charlotte's shoulder, the one saddle that didn't, an Amerigo close contact was not the right saddle for Lorette.
Lorette came to us because she had been breaking in a horse for someone whose owner gave her her own saddle to use. It was an Ideal Roella. She tried it on her own horse and it fitted surprisingly well. Although not quite wide enough, it didn't move forward! Eureka! It was also "a lovely saddle to ride in".
One of the biggest problems for saddlers is saddles moving forward!
Our initial thoughts for Lorette were that we are off to a good start with the Roella because one of the biggest problems for saddlers is saddles moving forward! The only suggestion might have been to consider the Suzannah which with its wider twist is slightly better for the horse. However, some riders find this saddle too wide and so the Roella was developed by Ideal along the same lines as the Suzannah but with the narrower twist for the more petite rider and finer horse. Lorette's response was to do what was best for Charlotte but Lorette is slim, Charlotte is the finer type of Dutch Warmblood and Lorette had already said that the Amerigo, with the wider tree, was not the saddle for her. So, we suggested she stick with her first choice.
he next key issue was the width of the tree. Lorette was very concerned over this because in the past, even with a custom made saddle, trees had not been wide enough and constricted and impacted Charlotte's movement even to the point that she lost shoes. The saddle she had tried was a "wide". Having seen the templates of Charlotte's back, Ian agreed with Lorette that her horse is deceptively wide. Ideal do a fitting in between W and XW, the W+ and he thought this would be our starting point. He and his team would then fine tune the fit from there and the custom flock would create a flatter shape in response to the horse's flat back.
Lorette had also mentioned (and the templates revealed) an unevenness in Charlotte's back, one side versus the other. However, Ian considers this as not material to the flocking of the saddle. Other than in exceptional circumstances, he is not a believer in adjusting the flock to "build up" one side, believing that it works better the other way round ie the flocking molds to the horse's shape rather than he molding the flocking to the horse's shape. He also thought that given her shape, the saddle would benefit from a deeper rear gusset. When a horse is higher at the wither and falls away, a deeper rear gusset allows greater leeway in the flocking to create a saddle in balance, which is when the deepest part of the seat is in the centre of the saddle. Conversely, when a horse is croup high, a shallower rear gusset similarly helps create a saddle in balance.
Lorette had no special requirements in terms of block shape and positioning, flaps, depth of seat etc so the saddle was a standard order in that respect. The key issue was the fit and stability on Charlotte.
After Lorette had received her saddle, we were thrilled to receive the following:
Hi Jane
It's lovely! I've won the competition level M today with the saddle (first competition since June 2011). I truly love the saddle. Many thanks!
A very happy customer – Lorette.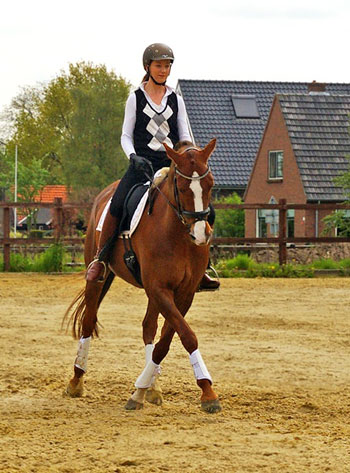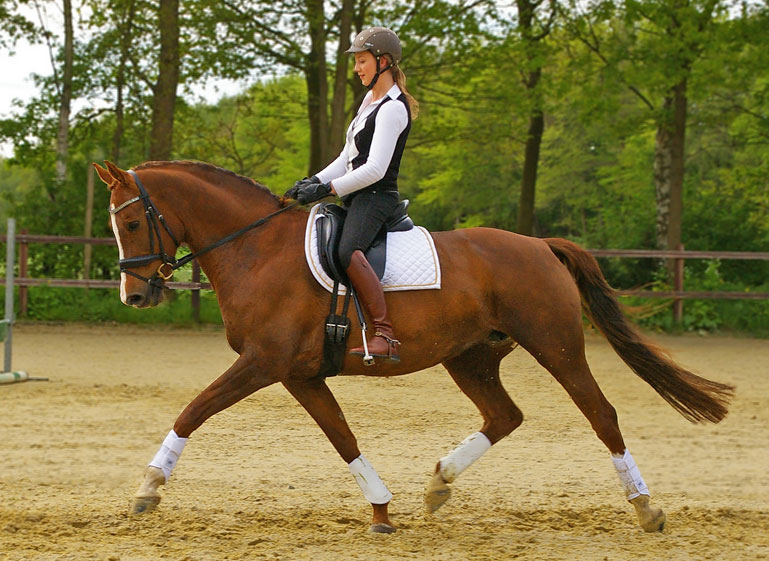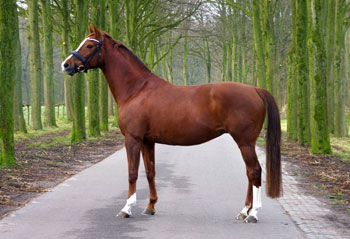 Elizabeth, Gilma and Elle
Let me introduce you to Glima: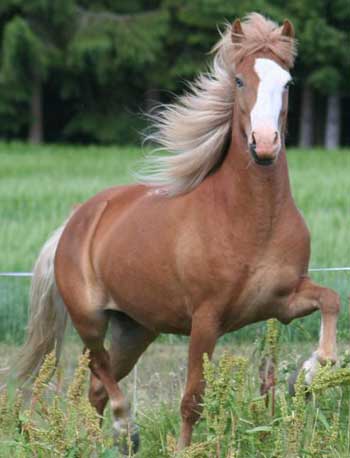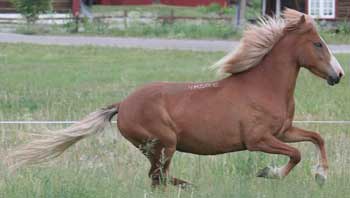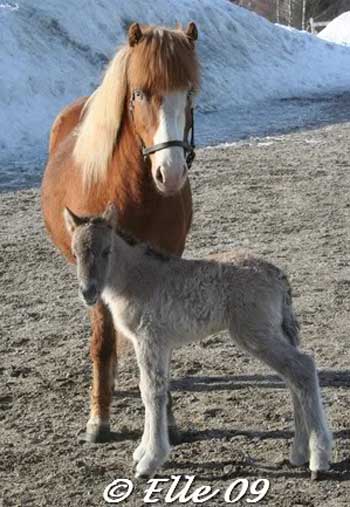 This is Glima's new saddle: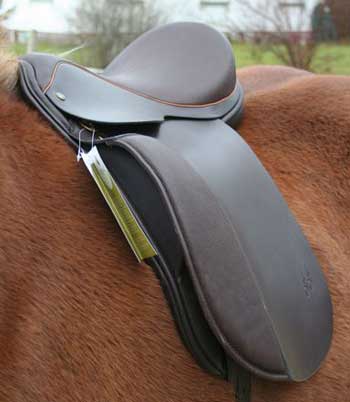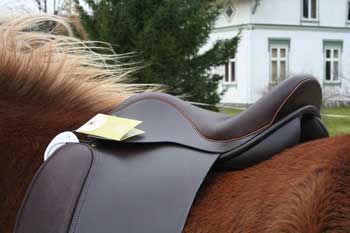 "It looks wonderful, cant wait to have a ride in it" said Elisabeth at the time.
Elisabeth lives in Norway and contacted us in the summer of 2008. She wanted a saddle for her new mare who had arrived from Iceland a few months ago. After much discussion, thought and fun for everyone, she decided upon a saddle in Sala coloured leather with Ranch coloured piping along the seat, based on the Ideal Icelandic but with Ideal Jessica style flaps, calf skin seat and knee pads, both with extra cushioning, large short knee rolls and dressage style girth straps. Ian's comments included "the saddle will be a very similar width (to Elisabeth's current saddle), just narrower by a nudge, have a shallower gusset at the back and a softer, flatter flock". He suggested point and balance straps (v girth) to help stability given that the horse is a young Icelandic, round and flat. He commented that the larger, shorter knee rolls are more versatile and practical than dressage blocks (Elisabeth's first thought) as your knee can pass underneath, allowing more freedom of movement. He went on to say that the Jessica flaps with these blocks are a good combination of being off the horse's shoulder but allowing your knee forward.
When fitting the saddle, Ian had to allow for the fact that this young horse was not yet ridden away and was going to have a foal before being backed.
Elisabeth wrote "I love, love, love my new saddle"
The following year, Elisabeth bought a 10 year old black stallion. His saddle was similar but subtly different to Glima's saddle. It is an Icelandic with a medium depth seat and short, large knee rolls with "formed "saddle flaps.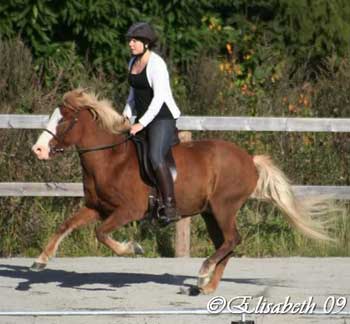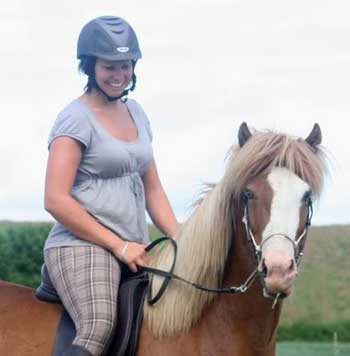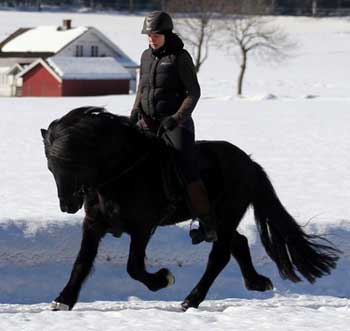 Bente contacted us in December 2010, having been referred to us by her friend Elizabeth. She needed a saddle for her daughter, Malene to use, if possible, on two horses. Both horses are 6 year old, rising 7, Icelandic competition horses. The narrower horse, the red one, was not very muscled. He had been ridden in an ill fitting saddle and had had some time off with back problems. The wider horse, the black one, was rounder but a bit fat rather than fit!
Malene wanted a black Ideal Suzannah with a 16 ½" seat. This is a snug seat for a Suzannah but photos Bente sent to us confirmed that it was not too small for Malene. However, Ian was a bit concerned that the snugness would force her into one rather strict, dressage style position. So he suggested that she have shorter, smaller knee blocks. This would give her some freedom of movement and flexibility which she will need when riding over varying terrain.
The templates of the horses' backs were such that Ian felt the one saddle could be used on both horses, particularly since it was a Suzannah. The design of this saddle makes it remarkably flexible in this respect. He would fit the saddle to the wider horse and Malene could use a pad if necessary to lift the saddle a touch on the narrower horse.
Bente wrote to us :
The saddle is PERFECT! Malene is so pleased with it. The saddle fits perfect for both! You have to send or best thoughts and thanks to Ian too. He has done very good work on this!
I have to say that I have my doubts in forehand, but I had no reason for that, because this I would do again J
Thank you so much fro all your help and kindness. I think Malene will love this saddle.
I will recommend you to all my friends, that's for sure.
All the best from Norway